Northeast Ohio Dumpster Rental Prices Starting at $275!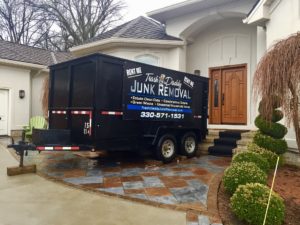 Trash Daddy is your dumpster rental company. We specialize in providing dumpster rentals for landscape debris removal, office and warehouse cleanouts, hot tub removal, estate clean-outs, and more.
Our non-damaging, driveway-friendly dumpsters sit on four tires to prevent scratches. From beginning to end, we make the entire dumpster rental process easy for you. After you are finished with your dumpster, we will pick up the container and dispose of the unwanted items in an environmentally responsible way.
Every job is different and needs to be priced accordingly.
Dumpster Rental Prices
Dumpster rental prices include delivery, pick up, up to one week of rental and disposal of up to 5,000 lbs.
Our dumpster rental prices start at:
$275 – 6 cubic yard dumpster
$325 – 10 cubic yard dumpster
$375 – 15 cubic yard dumpster
$425 – 20 cubic yard dumpster
We cannot accept tires, paint, hazardous chemicals, concrete, large amounts of dirt, rocks or brick. After one week there is a $10 per day charge.
Interested in renting a dumpster? Please allow one of our friendly and professional team members to give you a free, no-obligation price quote today!
*** Dumpster dimensions may vary, dimensions equal the yardage stated.
Dumpster Rental Sizes
Dumpster rental sizes are determined by the project and size or amount of material that needs to be disposed.
6 Cubic Yard Dumpster
Our 6 yard roll offs are perfect for your smaller projects. Whether you are replacing a small roof, tile floor or renovating a bathroom, a 6 yard dumpster will be perfect! Or if you're cleaning out a few small rooms, this size dumpster will be just right.
Maybe you have decided to declutter your shed or garage. Landscape debris such as limbs, shrubs or leaves can also be placed in our containers.
Wood, drywall, flooring
Small boxes, clothing, and unwanted household items
Small limbs, shrubs, leaves, and small stumps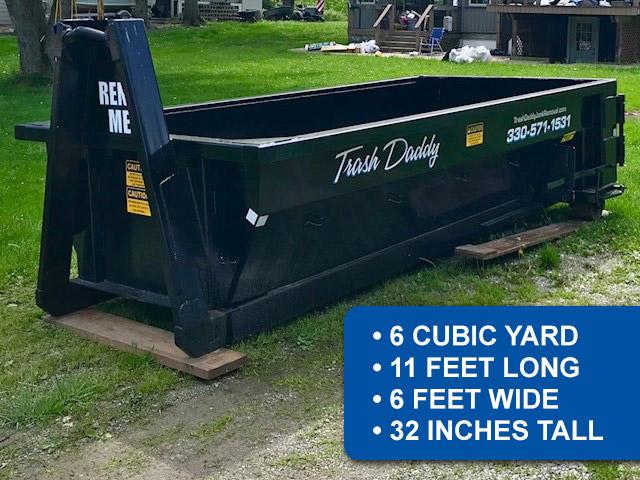 10 Cubic Yard Dumpster
The 10 yard dumpster works well for a large bathroom or small kitchen remodel. If you have a garage, basement or attic clean out, this size works well for a medium-size job. The debris from a DIY roof tear-off or landscape tear-out project can also be placed in our 10 yard roll off.
Cabinets, carpet, tile, and drywall
Small pieces of furniture, clothing and mattress/box spring
Limbs, shrubs leaves, and small stumps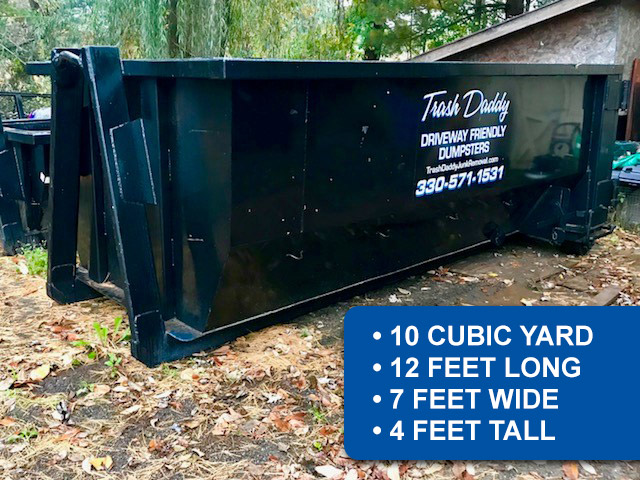 15 Cubic Yard Dumpster
This size dumpster is large enough to handle your medium-sized projects. Large kitchen remodels, additions or estate cleanouts would be perfect for this size container. If you've sold your home, this is the perfect time to purge and declutter before moving into your new home.
Garage/basement/attic clean out items
Furniture, clothing, toys, mattress and box spring
Wood, drywall, carpet, cabinets, and flooring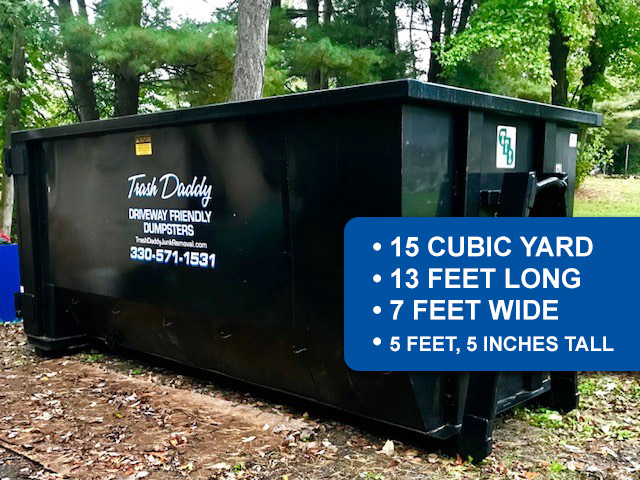 20 Cubic Yard Dumpster
Our 20 yard dumpster rental is perfect for your large estate cleanouts. This dumpster has a lot of room for large pieces of furniture, mattresses/box springs, clothing, large boxes, and bulky items.
However, we cannot accept construction debris in our 20 yard dumpsters due to overweight concerns.
Large estate cleanouts
Multiple garages or barn decluttering
Large boxes and bulky light items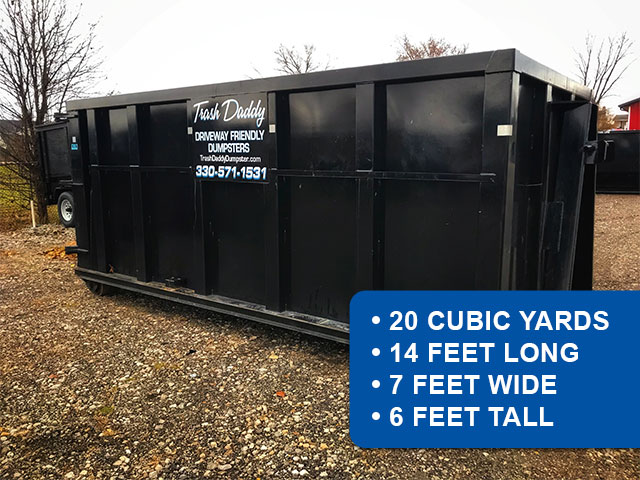 All Trash Daddy driveway-friendly dumpsters have a weight limit of 5,000 lbs.
Still not sure which dumpster size is right for your project? One of our friendly and professional team members would be happy to speak with you to give you a free, no-obligation price quote today!
*** Dumpster dimensions may vary, dimensions equal the yardage stated.